Ethiopian Premier Abiy in the support Rally of Addis Ababa escaped alive in an expected blast. Is it TPLF attempt to shock treat the Premier from his extravagance discourses, or an external enemy to destabilize his regime?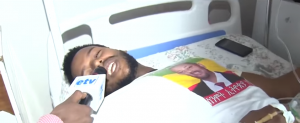 The prime minister has condemned an attack on a huge rally where he'd been speaking, calling it an attempt to undermine the country's unity.
The rally organizer said the prime minister had been targeted, although he was not injured. The deputy police commissioner for the capital, Addis Ababa, and eight other police and security officials were arrested. A witness said that the assailant with the grenade had been wrestled to the ground by police before it exploded. Over 100 wounded and one killed.
Eritrea has condemned the attack on Mr Abiy's rally. Its ambassador to Japan Estifanos Afeworki stated a "demonstration for peace", which he has known as the very first of its sort "in the history of Ethiopia".
The US embassy in Addis Ababa: "Violence has no spot as Ethiopia pursues meaningful political and economic reforms.