Britain funds land Grabbing & human rights abusers in Ethiopia in name of villagization
The UK government is providing financial aid to human rights abusers in Ethiopia through funding training paramilitaries, who perpetrate summary killings, rape and torture in the impoverished African country, local media reported.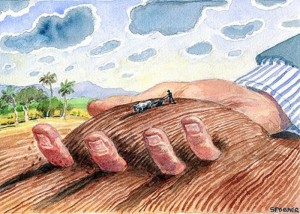 Through its foreign aid budget, the UK government provides financial support to an Ethiopian government security force known as the "special police" as part of its "peace and development programme", which would cost up to £15 million in five years, The Guardian reported. The Department for International Development warned in a leaked document of the "reputational risks" of working with organizations that are "frequently cited in human rights violation allegations", according to the report. The Ethiopian government's counter-insurgency campaign in Ogaden, a troubled region largely populated by ethnic Somalis is being enforced by the 14,000-strong special police. This is while police forces are repeatedly accused by Human Rights Watch of serious human rights abuses. Claire Beston, the Amnesty International's Ethiopia researcher, said it was highly concerning that Britain was planning to work with the paramilitary force.