In Ethiopia, TPLF regime in Ethiopia massacre in Borana Moyale is not a Minute desperation rather modus operandi last 27 years. The regime soldiers shot and killed at least ten civilians and wounded more than a dozen others in an unprovoked attack in Moyale, thousands flee to Kenya. Ethiopian regime declared a six-month state of emergency on February 16. On March 2, parliament approved the implementation of the nationwide decree in a rigged vote, which led to strikes and protests across Oromia. TPLF AGAZi soldiers had instructed the regional police force to leave Moyale before perpetrating the killings.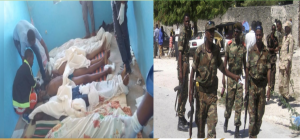 Under Ethiopian second state of emergency, 30 civilians, including minors, have been killed by the military-run Command Post which oversees the emergency decree. More than 60 others have been wounded. Ethiopia has been in a political turmoil and deadly protests for over two years. Since the first state of emergency, hundreds were killed and tens of thousands 
detained
. About a million people have been displaced.